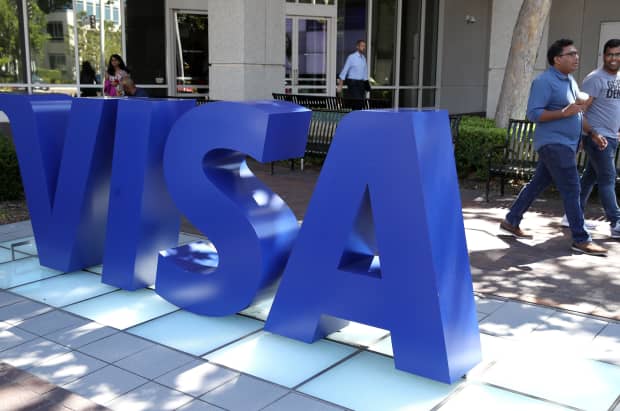 Visa Inc. saw its overall payment volume grow for its fiscal fourth quarter, but the company continued to be weighed down by the pandemic's impact on international travel.
Like Mastercard Inc.
MA,
-8.11%
a few hours before, Visa
V,
-4.83%
reported September-quarter results that showed persistent weakness in travel-related spending despite more improvements in domestic categories. Payment volume for the period rose 4% on a constant-dollar basis, while cross-border volume, excluding intra-Europe transactions, declined 41%.
Shares were up 0.9% in after-hours trading Wednesday, after declining 4.8% in the regular session.
Read: Mastercard stock slammed after weak travel spending pressures earnings
Visa saw its fiscal fourth-quarter revenue decline to $5.10 billion from $6.14 billion a year prior, while analysts surveyed by FactSet had been projecting $5 billion.
The company posted $2.14 billion in net income, or 97 cents a share, compared with $3.03 billion, or $1.34 a share, a year earlier. On an adjusted basis, Visa earned $1.12 a share, down from $1.47 a year earlier and above the $1.09 FactSet consensus.
"Many countries had stable to positive year-over-year domestic spending growth in the fiscal fourth quarter," Visa said in its earnings filing, but "overall cross-border spending remains depressed, led by travel spending, as the majority of borders remain closed."
Visa declined to provide a formal outlook for fiscal 2021, citing uncertainties brought on by the pandemic.
In its report earlier Wednesday, peer Mastercard pointed to some October improvements in domestic spending relative to a year earlier, including a bump toward the end of October that the company said could be attributed to a large e-commerce player's promotional event. That was widely interpreted to mean Amazon.com Inc.'s
AMZN,
-3.76%
Prime Day, which moved to October this year from its typical July occurrence due to the pandemic. It's likely Visa saw a similar bump from Prime Day.
Visa shares have declined about 8% over the past three months as the Dow Jones Industrial Average
DJIA,
-3.43%
has added 0.5%.