A Vancouver couple with backgrounds in interior design and engineering are combining 3D printing with compassion to fight the pandemic.
Keisha Go and Jamie Haakons have turned 3D printing from a hobby into a way to support both medical workers and small businesses as they cope with COVID-19.
The couple started making masks after getting married in the Philippines and arriving in Canada just before travel restrictions began.
"We got out right before COVID-19 hit the Philippines hard. One of our friends was organizing a 3D printing group in Manila, and we had a 3D printer at our house in Canada and reached out to see if we could help print out mask frames and donate them to hospitals in the Philippines," Go said.
Shipping overseas proved more difficult than expected, Haakons explaned, so they shifted gears and began donating 3D printed masks to local hospitals.
"We have eight printers running, with six printers basically identical, one older printer lent to us, and our original printer which has since half died," Haakons said. "We really put it through its paces."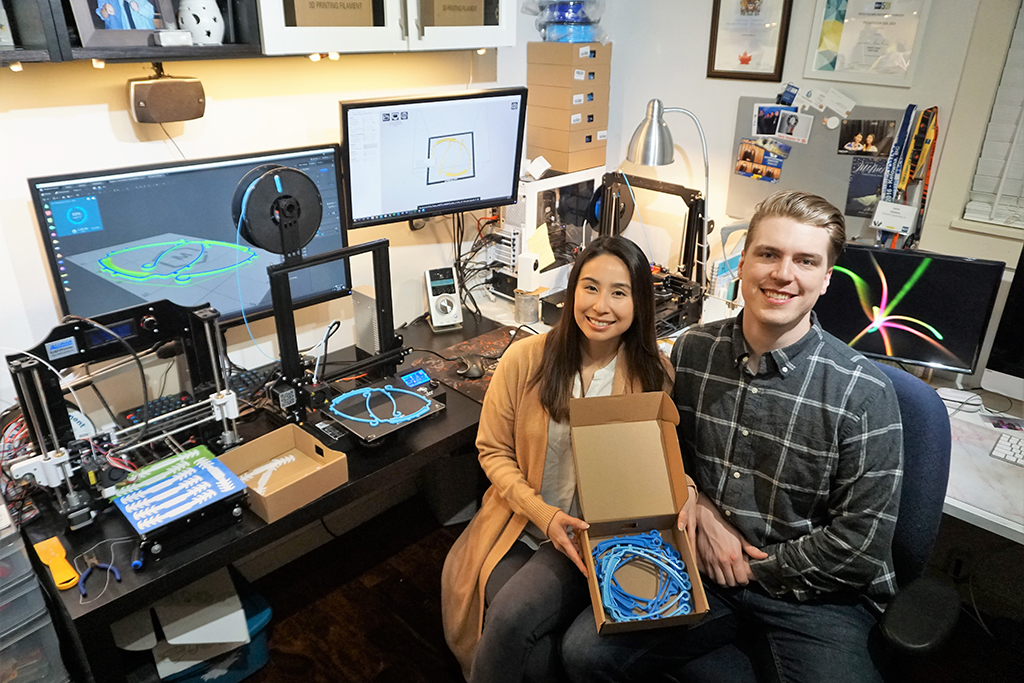 Printers have become faster and cheaper, he added, with output determined by the size of the nozzle.
"With new printers you can swap nozzles so you can print really fast and a frame takes 20 minutes," he said.
There are two manufacturing processes, Haakons said, involving printing the frames and then drilling and assembling the visors onto the frames.
"It's like having a computerized hot glue gun with a really tiny nozzle. It just draws layer by layer, melts the plastic and squeezes," he said.
"We make visors with binding covers. It's a clear 5 millimetre piece of plastic and we were able to source thousands of them."
The process isn't perfect and each machine takes about 20 minutes of operation per day to clean and calibrate, he added.
"There's a misconception that you can just click a button and let it go. There are the lower end of what you can use and the cheaper printers are $300. They make them as cheap as possible," Go said.
"But for $300, I've been astounded with their performance," Haakons added.
Haakons said maintaining the printers can be like having "a baby in the next room."
"You hear it pinging and say 'it's your turn this time,'" Haakons said.
Go has a background in interior design and Haakons is a mechanical engineer. Both are alumni of the British Columbia Institute of Technology (BCIT) and Haakons credited the school for his background in plastics and 3D printing.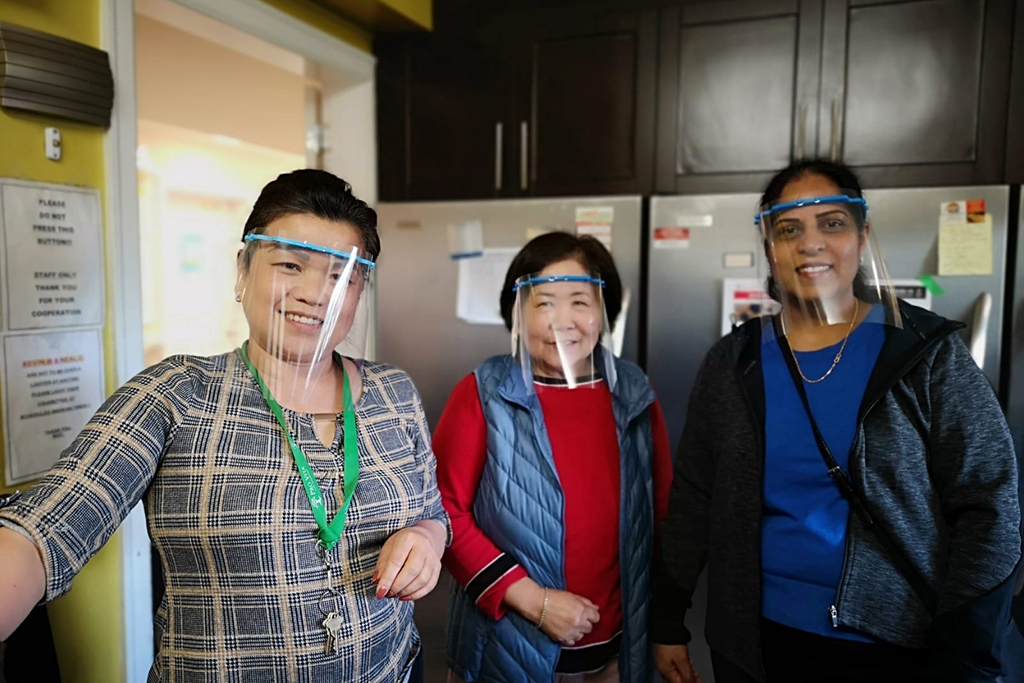 "Two of my projects at BCIT involved 3D printing, and I have a lot of experience with the technical aspects, while Keisha has the design and business aspects covered," he said.
Royal Columbian Hospital, Vancouver General Hospital, Surrey Memorial Hospital, the BC Cancer Agency, Burnaby Division of Family Practice, G.F. Strong Rehabilitation Centre and many long-term care homes have made use of the masks, a BCIT release stated.
While construction companies have not yet asked for their help, the couple are ready for any requests from the industry.
"We haven't had any direct request from construction companies or bigger firms just yet but we imagine this may only be a matter of time. We are more than happy to help as many people as we can get their businesses back on their feet," Go said.
The face shields currently being printed aren't intended for the heavy labour of a construction site, Haakons added, but adapting to that environment simply means changing the thickness of the frames.
"To better suit those situations, we also produce a much sturdier frame that has a wide, adjustable elastic strap, and can fit over goggles and respirators. These are quite robust already, but we have the option of exchanging the normal 5 mm clear plastic with 10 mm sheets for extra safety," he said.
Go and Haakons have also compiled a spreadsheet detailing the organizations who have received masks and the quantities donated in a Google spreadsheet document.
While initially the masks went to hospitals and other medical facilities recently demand has come from the business sector.
"On the bright side there's been a big shift because we're seeing fewer cases in B.C., so we aren't getting as many requests (from hospitals.) We're giving them to small businesses and small crews working in tight spaces," Haakons said.
Distribution of the masks is low-tech compared to their manufacture.
"When we have a lot of orders we try to organize by area and drop them off in one da. Our community has also been really supportive, with neighours acting as couriers and finding people that need the masks," Go said.
Essential workers and others on the frontlines who require equipment can contact Go and Haakons through their Facebook Fundraising page or via email.