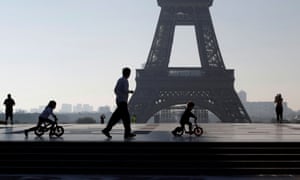 The French government will present its schedule for bringing the country out of a strict lockdown to parliament on Tuesday afternoon.
President Emmanuel Macron and the prime minister, Édouard Philippe, have been finalising details of the "deconfinement plan" that will be announced in the Assemblée Nationale, the lower house of parliament, at 3pm local time followed by a debate and a vote.
Opposition MPs are angry they will be give only hours to discuss the plan and insist they need at least 24 hours to consider it and respond.
Ministers from each sector were asked to present concrete proposals of how to end the coronavirus lockdown in six areas: health policy, school reopenings, the return to work for adults, businesses, transport and cultural or religious gatherings.
The government is also hoping to have a Covid-19 tracking application available by 11 May, which has also raised concerns among the opposition benches.
The scientific committee that is advising the government is reported to have serious reservations about the president's announcement that schools will reopen progressively from 11 May, describing it in a statement as a "political decision". The committee has advised schools remain closed until September.
It has advised that the wearing of face masks be mandatory in public places and sanitising hand gel available to everyone. The health minister, Olivier Véran, has said the authorities will aim to carry out between 500,000 and 700,000 tests for Covid-19 among those showing symptoms of the virus, but insisted it was "impossible to test everyone".
Suggestions that the lockdown will be ended by region and by age, with older people being required to remain at home, have been reportedly ruled out.
The measures in the plan will remain in place until mid-July and will be re-examined if there is a second coronavirus wave.
Here are the latest Covid-19 figures from France, that has been under one of the more draconian lockdown regimes since 17 March. Restaurants, cafes, hotels and all non-essential shops have been closed since midnight on 14 March. Note that unlike the UK, the total number of deaths includes those in care homes.
Number of cases: 124,575 (+461)
Number in hospital: 28,217 (+481 gross, -5 net)
Number in i/c: 4,682 (+79 gross, -43)
Deaths in hospital: 14,202 (+152)
Deaths in care homes: 4,815 (+90)
Total deaths: 22,856 (+242)
Discharged home: 44,903 (+318)