The number of confirmed cases in France jumped from 100 to 130 in 24 hours to Sunday evening, reports Kim Willsher, the Guardian's correspondent in Paris.
The director general of France's health service, Jérôme Salomon, gave the latest figures on Sunday evening. Of the 130 people who have contracted the virus, two have died, 116 are in hospital – nine of them in a serious condition – and 12 have recovered after treatment and have returned home.
France has declared it is in "Stage 2" of an epidemic. Stage 1 is attempting to avoid the virus entering the country. Stage 2 is attempting to avoid it spreading. The health authorities would only move to Stage 3 when it was considered impossible to mitigate the spread of the virus and necessary to introduce compulsory collective measures, such as the closure of schools and other public buildings.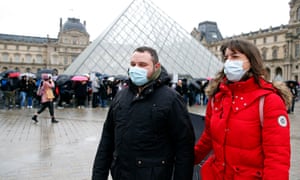 Salomon said this would be an "observational and not a political decision". "This epidemic, as we've already seen with the flu or bronchiolitis, is not necessarily homogeneous. That's why we'll have a very adapted, pragmatic and reactive attitude depending on the territories," Salomon said.
The new cases include two children aged one year and five years from Alsace in eastern France, who have been hospitalised in Strasbourg along with their 27-year-old mother who also tested positive. Their condition was described as not worrying.
Salomon says French travellers should avoid journeys abroad outside the European Union unless necessary. He pointed out the death rate worldwide is 3.4% of confirmed cases.
The Manga and Sci-Fi Show salon planned for next week, which was to have featured giant karaoke and K-pop concerts have been cancelled.
Several schools and creches have been closed in the Morbihan in Brittany after a cluster of suspected coronavirus cases. This was announced shortly before midnight on Sunday.
Most schools remain open, but students who travelled to areas considered risky, including China and northern Italy, have been asked to self-quarantine for two weeks.
The Louvre will remain closed. The museum's staff have exercised their "right to withdraw" (their services). Apparently they called a meeting with management after concerns about the number of tourists, reportedly from Asia, entering the museum wearing masks.