OceanaGold has reported a first quarter net loss of $US26 million, down from a net profit of $US8.7 million in the previous quarter, with the company attributing the result to lower sales volumes and adverse currency moves.
Revenue was down 9.1 per cent to $US138.2 in the March quarter, while lower costs saw earnings before interest, tax, depreciation and amortisation (EBITDA) fall slightly less, down 6.2 per cent on the December quarter.
"First quarter EBITDA of $42.4 million decreased slightly quarter-on-quarter, reflecting lower sales volume combined with currency translation losses, partially offset a higher average old price and lower general and administrative costs and indirect taxes," the company said.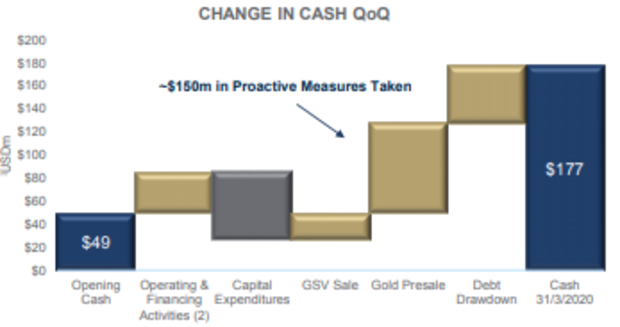 The gold miner reported a $US21.2 million loss on undesignated hedges in the quarter.
Year-on-year comparisons for the first quarter results were notably worse than quarter-on-quarter because of the impact of its stalled Didipio mine in the Philippines. OceanaGold has been unable to obtain licence renewals for the mine.
EBITDA was down 34.2 per cent compared to the first quarter of 2019, while revenue was 23 per cent lower.
The company reported sales of 91,388 ounces of gold in the three months to March 31, a 15 per cent decrease on the previous quarter and 24.5 per cent fall on the same time last year.
Operating cash flows surged to $US120.6 million in the period, up from $US46.7 million in the previous last quarter. OceanaGold said the jump was due to receipts of $US78.5 million generated from presales.